First and foremost, this blog is supposed to be a journal: a snapshot of what I like and how I am right now. And what I like right now is KPOP, music that opened my eyes to a culture that is constantly surprising me. Even as I sit here writing this blog post, I'm watching an old Weekly Idol episode of ASTRO and watching BTS reaction videos.
KPOP biases change. All the time.
So, as of January 9th, 2016, here are my KPOP biases:
BTS
Bias: Jeon Jungkookie
Bias-Wrecker: Suga/Agust D/Min Yoongi
Notable Mentions/Basically also my bias: the maknae line (V, JK, ChimChim); J-Hope… okay really it's like all of them. They're all up there.
Got7
Bias: BamBam
Bias-Wrecker: Yugyeom
Notable Mentions (in order because let's face it they're all notable mentions): JB, Jackson, Youngjae/Jinyoung, Mark
BLACKPINK
Bias: Lisa or Jennie (but probably Lisa)
Bias-Wrecker: None, maybe Rose
Notable Mentions: I LOVE THEM ALL OKAY
EXO (OT9)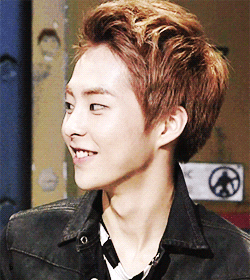 Bias:  Xiumin
Bias-Wreckers/There's so many of them I'm gonna just list the ones that might as well be my bias: KAI, Lay, Baekhyun
EXO-M Bias: Xiumin then Lay
EXO-K Bias: Kai then Baekhyun
EXO-CBX Bias: Xiumin (obviously)
Notable Mentions: Sehun, The rest?
Mamamoo
Bias: Solar
Bias-Wrecker: Hwasa
Notable Mentions(aka I still love them so much): Moonbyul &Wheein
GFriend
Bias: SinB
Bias-Wrecker: Sowon
Notable Mentions: all of them
INFINITE
Bias: L
Bias-Wrecker/They might as well be my bias:  Woohyun & Sunggyu
Notable Mentions: Their aesthetic, their music videos, THE ORCHESTRAL-NESS
f(x)
Bias: Don't really have one
Notable Mentions: Krystal and Amber always stood out to me
I.O.I
Bias: Doyeon
Bias-Wreckers: Nayoung, Yeonjung, Somi
Notable Mentions: That Very Very Very video
Monsta X
I'm still getting into them, so no bias yet
Probably leaning towards Kihyun though.
PENTAGON
I don't have a bias yet lol, they're so new.
ASTRO
Bias: Undecided, but it's basically changing from Moonbin to Rocky to Eunwoo (and sometimes JinJin or even MJ) and then back again
Not gonna be Sanha because HE'S YOUNGER THAN ME IM TOO YOUNG TO BE A NOONA
Rocky is probably going to be my bias-wrecker and Moonbin is probably going to be my bias (Eunwoo looks/acts so much like Jungkook that it may be clouding my judgment)
Red Velvet
Bias: Don't really have one; maybe Yeri?
Wendy's dancing on Weekly Idol was A+ though
Seventeen
THERE ARE SO MANY OF THEM
Does Woozi not remind anyone else of Suga?
Bias: maybe Seungkwan
Bias Wreckers/I love them: Hoshi, DK, MinGyu, The8, S. Coups, Joshua
I need time; I need to watch their reality show.
Notable Mentions: They are so talented though (3 SUBUNITS OMG)
Every other band not on this list (SISTAR, BIGBANG, etc) that I listen to probably won't appear anytime soon because I have no current plans to try to pick out a bias.
I think you don't need a bias for a group, but I think for groups that you watch outside of the music itself, it's really interesting to see what types of personalities you're drawn to. For example, I never considered Eunwoo a potential bias for ASTRO until I saw him off-stage.
So, how much is this going to change in a few months, huh?
-FangirlingforGood